As Featured in Digital Life, The Straits Time 30/05/2012: Itronics ITB 100HD with Inbuilt GPS / 144 degree viewing angle / h264 compressed video! / Quick SD card Format Button / Night Vision Mode! MADE IN KOREA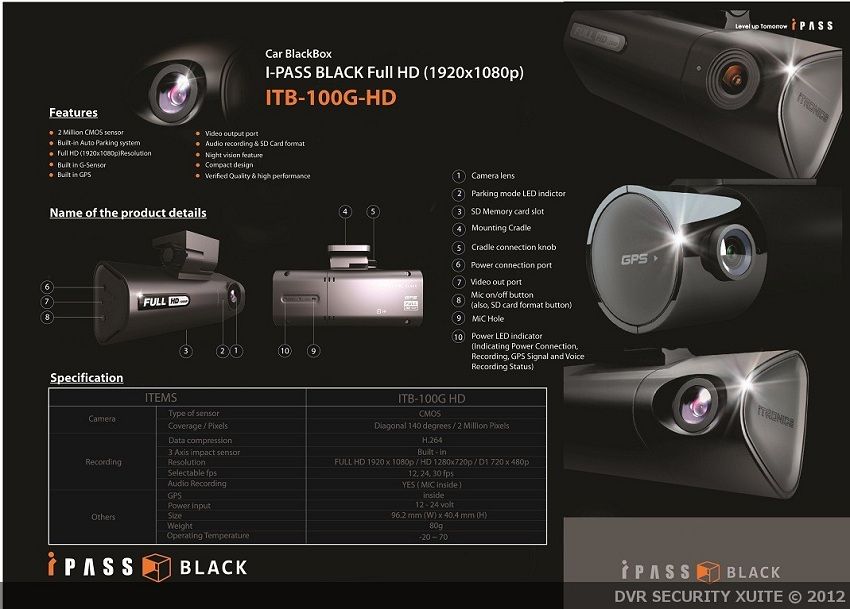 "Night shots were splendid.
With minimal noise, the video quality was crystal clear."
Reviewed by Digital Life,
The Straits Time, 30th May 2012

Read Full Review Here:
http://www.dsxuite.com.sg/#!digitallife

Why Top Pick?
1. Now you can avoid the hassle of constantly removing the sd card & formatting from your home pc, with just a click of the "Quick Format" button!
2. Highest viewing angle of 144 degrees without distortion.
3. H264 compression to minimize file size, yet retaining the high resolution quality, Uninterrupted seamless recording!
4. Comes with Built-in GPS module to pin point your location as you play back the video!
5. Night vision mode for enhancing dark videos clarity!
6. Auto surveillance mode, recording based on motion & impact during parking.
7. Auto loop recording when memory is full
8. Auto start up / shut down on engine on / off.
9. Comes with proprietary software to filter & view the videos, adjust the sensitivity of the sensors, map plotting & more!
10. Use SD card which is more cost effective than micro sd card of the same capacity. 50% savings on card.
11. Able to record at MAX resolution & fps in surveillance mode without comprising video qualities.


Video Sample:

Wide angle surveillance mode:

Heat Stress Test:
Latest External Battery Pack TPOWER for your car dvr & any 12V electronics devices from KOREA!
Worrying of voiding the warranty of your new car if u tapped your new car dvr to the fusebox? Look no further!
Introducing the TPOWER 10400MAH Super Capacity Battery Pack from Korea!
Able to be recharged via your cigar socket while you are driving, and supply power up overnight!
What is TPOWER?

•Applicable to small 12V devices such as car DVRs, security cameras, navigations and net-

books.

•Rated 12V output/ 1A

•QC 84 supports TPOWER to be rapid charged

•huge capacity of 10,400mAh rechargeable Li-Ion battery inside from Samsung

•Eco-friendly: Do not dispose of it as its life ends or its power runs down. Battery alone can be

replaced and used as if new

QC84 that makes the value of TPOWER upgrade.

1. Rapid charger: 2.5times rapider than normal 8.4 cigarette charge

2.Removal of noise : Removing the noise of power source by low audio frequency filter

3.Design for safety: Installation of circuit to protect over-charge/ over-discharge, with

precise design, produced in Korea

4.Confirming the operation: Convenient confirmation through small LED lights, i.e red light while

charging, green light upon completion

Wide Compatability

Applicable Devices:All 12V mobile devices which need all-time power source and

supplementary one,such as car DVRs, portable security cameras, black boxes, navigation

and net-books.

Early bird promo, $30 discount off original price!

Order yours now!