What models does this FAQ apply to?
This FAQ applies to the DVD based COMAND systems (known as NTG1 and NTG2). There is some information in this FAQ about NTG3/NTG3.5 (S/CL) and NTG4-W204 (W204 C/GLK) and NTG4-W212, (W212,W207 E).
There is a separate FAQ for the NTG2.5 Hard Disk based system
1. Can I fit this system into my older vehicle ?
It is relatively easy to install COMAND APS NTG2.5 in the A, B, CLC, ML, GL, R and SLK class without Harmon Kardon (HK) sound system. It is also relatively easy in E or CLS with Audio-20-CD head unit (without HK) - it is more difficult in E and CLS with COMAND or Harmon Kardon but retrofit looms are available. Installing in cars with HK needs new amplifier(s) and special adapter looms. For adapters etc please see Comand Online Ltd
2. I need to alter the 'coding' of my NTG2.5 unit for my car.
If your car could have been supplied with the NTG2.5 unit from new the best way to deal with this is to have a Mercedes dealer update the datacard for the vehicle (VeDOK) to say the old system has been removed and the new system (option 527 without DVD changer, option 512 with DVD changer) has been added, and then to SCN code the COMAND unit (and instrument cluster). If your car is before MY2009 then you will need to find a specialist independant who can code this for you (Mercedes dealers can not do this) - please contact us and we may be able to advise someone who can.
3. When I installed NTG2.5 there is no sound.
This is because the unit was configured for Harmon Kardon sound system, you need to find an independant with Star Diagnosis and the 'development' mode settings who is willing to re-code the unit.
4. How do I interface an iPod to NTG2.5?
NTG2.5 supports the Media Interface (internally known as UCI) which is a fully integrated iPod & USB kit (with video support). It also supports the more normal iPod (and iPod video) kit where control/track display is done from the steering wheel controls and instrument cluster.
5. I have installed a NTG2.5 iPod kit but I get no sound.
If the system was configured for UCI (Media Interface) then the AUX port is disabled. A specialist will have to re-code the unit.
6. How to I make my old NTG2 iPod kit work with NTG2.5
On NTG2 the aux input is on the white sub-connector of the main multiway wiring connector. On NTG2.5 that connector is used for the microphones/comfort-phone power and the other 12 pin subconnector (with a black shell) is used instead. Unplug the white and black sub-connectors from the iPod wiring loom (head unit end). Plug the new microphone/wiring loom into the iPod loom's white slot. Remove the white shell from the iPod loom sub-connector and move the wiring as follows. Pin 11 -> Pin 9, Pin 12 -> Pin 10, Pin 6 -> Pin 4, Pin 5 -> Pin 3. Put the black shell from the other sub connector onto that connector and plug back into the multiway connector body.
7. How do I make my AUX input from my NTG2 system work
The same procedure applies as with modifying the iPod kit. However you will either have to find a black shell or cut the white shell to fit.
8. I am trying to update my maps but it wont work.
If you get the message "The navigation update DVD is not suitable for the system or the system software" this is a known fault because the firmware in your unit does not recognise the new maps. The system must be updated to the latest firmware (using Star Diagnosis, the Mercedes diagnosis system (01/2010), and if it still does not work the dealer must install the map disks that were supplied with his June 2008 Star Diagnosis release. Mercedes dealers should not charge for this, tell them there is a TIPS document number GI82.85-P-046208 saying they should not charge.
9. I want to install a different area map on my unit.
Most of the world uses the same navigation unit (NB, USA, Canada, Japan, China are different) but if the wrong map is installed the dealer must disable the map using Star Diagnosis before a map for a different area can be installed.
10. How can I update the firmware on my unit?
You can not, it needs a firmware update disk AND Star diagnosis, so a trip to a Mercedes dealer or an independant with Star Diagnosis is needed.
11. How can I enter 'engineering mode'?
Press NAV. Then hold down the following 3 buttons for about 10 seconds. Phone-Hangup, *, 6. Please be careful not to break your unit.
12. What other hidden menus are there.
On the E/CLS, holding down 1,3,8 keys simultaneously just after COMAND-APS is turned on without a CD in the drive will put the COMAND-APS into 'update' mode, waiting for a service CD to be inserted.
On NTG2 modes you can see the Navigation internal menu by pressing NAV, letting go and then holding NAV and the 5 key for about 10 seconds. This may work for NTG1 as-well.
On NTG1/NTG2 you can enter the 'Engineering Menu', firstly go to the language menu by pressing SERV key, then the System soft-key, then the Lang. soft key. Now hold down the 'phone-hangup' key, the small key between up and left on the arrow pad, and the Audio key. This should enter Engineering mode.
In the past there was another key sequence used from Engineering mode (only on NTG1) which would then allow you to watch DVD/TV in motion. This seems to be deleted now, and as I think its a bad idea, please do not ask be about it.
Please be careful in engineering / nav mode - you can delete files and render your COMAND useless.
Apart from the engineering menu (Hangup, *, 6) there is also a Dealer menu (Hangup, 7, 9) and you can restart the MOST fibre optic ring by holding Hangup & 2 keys, or holding the power button for a long time.
In the dealer menu do not delete files or mess with the flash settings or your unit will becoma a brick.
13. What are the connectors on the back of COMAND-APS ?
The E/CLS units have between 1 and 4 connectors depending on whether the unit has video capability. The A/B/C/CLK/etc units have more connectors because they contain the AGW (and thus the tuner) and the Navigation processor.
E/CLS Comand APS connectors
1. Green FAKRA - Video Input (only if Video capable)
2. 25-way D-Type - Rear Screen (only if Video capable)
3. 3 Way - AUX audio input
4. Multiway - Power, Ground, Wakeup & MOST fibre plug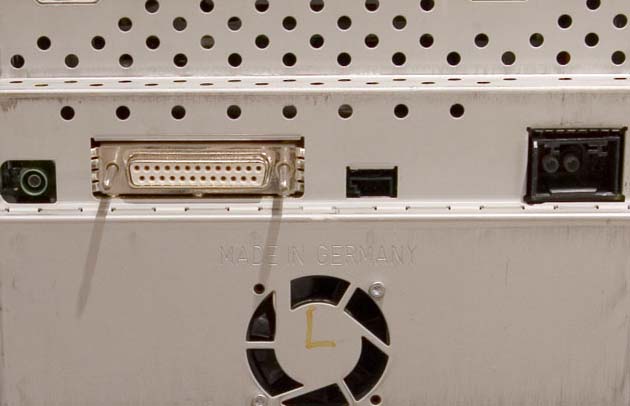 A/B/C/CLK/ML/GL/R Comand APS connectors
1. Green FAKRA - Video Input
2. Blue FAKRA - GPS aerial
3. Yellow Fakra - 2nd FM Aerial
4. Black Fakra - Main FM Aerial
5. Multiway connector - AUX, Power, Speakers, MOST Fibre connections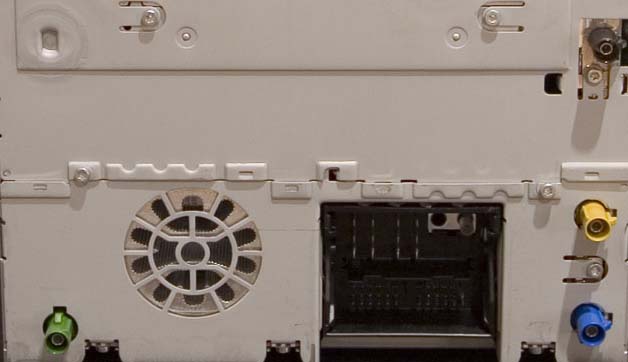 14. Who makes COMAND-APS ?
Harman Becker and Siemens make the COMAND-APS units. Siemens seem to make the S(W220)/CL(W215)/SL units and the USA versions of the E/CLS/SLK units. Becker seem to make the others. There may be Becker versions of the USA E/CLS units. The USA A/B/C/CLK/ML/GL/R unit is not COMAND-APS, it is MCS-II and is made by Alpine. NTG2.5 are made by another manafacturer.
15. What bits make up COMAND-APS and what do they do ?
There are a number of components that make up the COMAND system, in some cars many of these components are in the main display unit, in others they are distributed around the vehicle.
Audio Gateway (AGW) - this unit contains the Tuner (radio), the MOST fibre optic controller and the diagnostic interface.
COMAND - this is the display module
Navigation - this module provides navigation functionality.
In the A/B/C/CLK/ML/GL/R/ForFour all 3 of these units are built into the display module. On other vehicles the Navigation system is in the trunk (boot) of the car. The AGW is either near the Navigation system, or built into the head unit. (Certainly on S/CL/SL it is built into the head unit). The US COMAND-APS unit is very different, and in fact is known as MCS-II - the navigation unit is in the head unit, but it is an option and can be added (or removed) later.
16. I got an E class unit, will it go in my C class ?
The units will only fit in the vehicle they are designed to. This means the part number starts with the model series - i.e A211 870 xx xx goes in an E class (W211). However, some cars are based on each other (such as A and B, or E and CLS) and use the same units.
B class (W245) uses A class (W169) units, CLS (W219) uses E class units (W211), CL (W215) uses S (W220) units and GL (X164) uses ML (W164) units. CLK (W209) units and C Class (W203) units are definetly not interchangable.
To be updated!